Another Winning Team
Another Winning Team
8 May 2018 (by Head Admin (Headteacher))
Tri Golf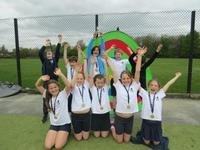 Ten children from Year 5 took part in a Tri Golf competition at Wilmslow High School.
They rotated around 8 different stations which tested their putting and chipping skills. These included chipping a ball into an upturned umbrella, getting the ball to land in a hoolahoop and hitting the ball at different coloured cones. They scored points depending upon how accurate they were.
There was some excellent putting and chipping by everyone and at the end of all the activities the team had scored 297 points.
However, at this point the team from AECPS had no idea how the other teams had gone on, as everyone kept their own score as they went along.
So, when they were declared the overall winners, they were absolutely delighted!!!
Congratulations to the whole team. They now progress to the Macclesfield Area final.
Share this: