Choir
Choir
8 May 2018 (by Head Admin (Headteacher))
Simply Stunning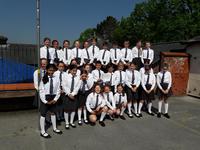 Today our school choir represented us in the 102nd Alderley Edge Festival.
This was the opening class of the festival and the choir certainly rose to the challenge and delivered a stunning performance.
Against stiff competition, they managed a spectacular 3rd place, gaining a commendation with 85 points.
It should be noted that the winning school only got 2 more points - such close margins.
The adjudicator said " the full choir was very energetic in articulation and style... there was a sensitive range of dynamic, good legato and musical expression".
If you want to hear what they sang, come to the May Fair on the Saturday 19th May at 11.30am
Share this: