The Squirrel Book Club
The Squirrel Book Club
11 May 2018 (by Head Admin (Headteacher))
Year 4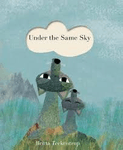 The Alderley Edge Primary School book clubs continue to meet on a weekly basis.
Year 4 Squirrel Book Club are well into the journey and have had great fun discussing, analysis and disagreeing over the different books.
The children have written some fantastic book reviews on their group's home page.
Take a look for yourself by clicking on the link below.
Share this: