NSPCC
NSPCC
11 May 2018 (by Head Admin (Headteacher))
Poster Competition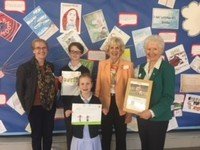 Mrs Fairweather, together with friends from the NSPCC, joined the whole school in their Friday afternoon Good Work Celebration Assembly.
The children had entered a NSPCC poster competition recently and Mrs Fairweather said she was amazed and delighted with the posters.
Every child's poster was returned to them today with a star. However, Mrs Fairweather has requested that the children return their posters to school next week so they can be collected and displayed during the NSPCC's AGM later this month. The children's posters will then be returned to school once more following the AGM.
Two children's posters were chosen as overall winners and will be printed and included in the NSPCC's AGM booklet. The winners are pictured with Mrs Fairweather.
Share this: