Year 5 and 6 Football League Starts
Year 5 and 6 Football League Starts
5 October 2018 (by Head Admin (headteacher))
The Year 5 and 6 team start the season on top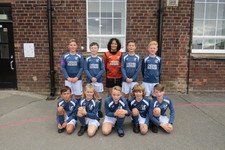 The year 5 and 6 football team had the first league night of the season on Thursday.
They had previously qualified for the A League and are now playing against the larger schools in Wilmslow.
Their coach Joe said that they were excellent and it this was proven in the results finishing top of the league at the end of the night.
Its early days so we won't get too carried away…. Yet!
Share this: