Year 3 Visit The Carrs
Year 3 Visit The Carrs
9 October 2018 (by Head Admin (headteacher))
Year 3 spent a very enjoyable morning mapping the River Bollin at The Carrs.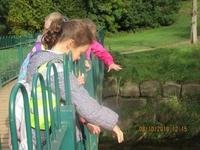 The children had to follow a map and look for erosion and deposition along the river.
They saw the lovely autumn colours on the trees and saw how a reed head exploded into seeds!
They finished the day learning how to play pooh sticks to see the speed of the river flow.
Even the adults had fun!
Share this: