Year 4 Learn to Swim
Year 4 Learn to Swim
4 December 2018 (by Head Admin (headteacher))
This term, year 4 have been going swimming every Friday as part of their PE curriculum.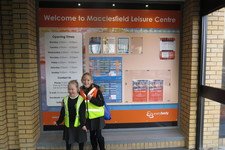 All children are targeted to be able to swim 25m by the time they leave primary school. They also have to be able to perform 'safe rescue' techniques in case of an emergency.
The year 4s have loved going swimming and their progress has been amazing – in particular those children who were less confident at the start.
The children particularly enjoyed their life saving lesson and are celebrating this week with a fun session.
Children who have not met the 25m target will be given opportunities in the future to carry on learning to swim.
Thank you to the staff of Macclesfield Leisure Centre and the parent volunteers who have helped make this an enjoyable learning experience.
Share this: