School Council
School Council
6 December 2018 (by Head Admin (headteacher))
School Council - December minutes published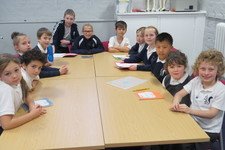 The School Council met with Mrs Walsh on 5th December 2018.
The main agenda item was the new child-friendly policies written by the children in different classes.
The School Council read the proposed policies and amended them to make sure they could be understood by the youngest children in school.
The School Council also voted on a proposal to have a 'Treat Friday' to support being a healthier school - more details to follow.
Share this: