KS1 share the Christmas story
KS1 share the Christmas story
18 December 2018 (by Head Admin (headteacher))
The infant department spread the Christmas spirit in their nativity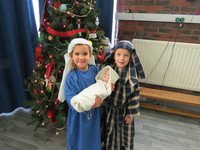 The year 1 children led this years nativity with a fantastic retelling of the Christmas story. They were joined by year 2 and reception as the choir
It was the first Christmas night in Bethlehem and a group of census-takers were carrying out Caesar's urgent decree that everyone in his empire should be counted.
They counted the people of Bethlehem, the wise men and their camels and nearly fell asleep counting sheep with the shepherds.
Then, a countless host of angels appeared with the good news of Jesus' birth, which sent the shepherds running right to the stable to meet Mary and Joseph and one special baby.
There they realised that Jesus being born shows how much God cares and how Christmas counts for everyone.
Parents, family and friends were enthralled by the children's performance and KS1 really set the scene for the Christmas season.
Share this: