KS2 retell the Nativity
KS2 retell the Nativity
19 December 2018 (by Head Admin (headteacher))
A silence descended in St Phillip's Church as the KS2 children captivated the congregation with their retelling of the Christmas story.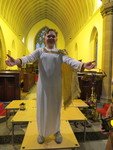 Parents, family members and friends were treated to a poignant service that reminded us all why Christians celebrate Christmas. The children entertained with beautiful songs, hymns and readings capturing the spirit of Christmas and making a difference to all who watched.
Thank you to all the children and to the staff, especially Miss Rose and Mrs Oduah for this beautiful performance.
Share this: