Thankyou PTA
Thankyou PTA
5 February 2019 (by Head Admin (headteacher))
We loved the film night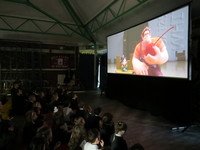 The children would like to thank the PTA for organizing another great film night.
They really enjoyed the opportunity to be with their friends and watch Ralph Breaks the Internet.
Thank you to those parents who helped on the day and to everyone who allowed their children and help raise funds for the PTA.
Share this: