Year 3 Make Mountains!
Year 3 Make Mountains!
14 May 2019 (by Head Admin (headteacher))
What an informative week Year 3 are having!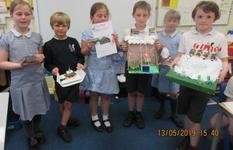 Year 3 have been finding out about mountains around the world. What facts they know! These have definitely been helped by all the wonderful models that have been arriving in class, including cake mountains !!!
Great work everyone, year 3 are looking forward to hearing about them all over the next few weeks.
Share this: