Poet Mayram Alsaeid Visits Year 2
Poet Mayram Alsaeid Visits Year 2
14 May 2019 (by Head Admin (headteacher))
During English work on poetry, Year 2 had a visit from Maryam Alsaeid who is a 'real life poet'!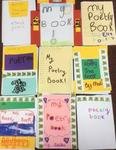 Maryam studied pharmacy at university and loves to write poetry. She explained to the children that she prefers to write on plain paper as it makes her feel 'free'.
She encouraged the children , when they are older, '"To do what they believe in because you never know where it will take you and what new skills you will learn." She told the children that she believes poetry is like a piece of art that people can interpret in their own way.
Maryam shared the books of poetry that she has written over the years and then the children made their own poetry book.
Share this: