Can you donate spare plants?
Can you donate spare plants?
16 May 2019 (by Head Admin (headteacher))
The Environmental club are back and are looking for plants.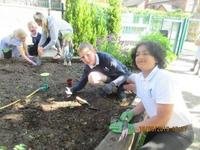 They have been busy planting in the school vegetable patch and planting plants around the new school pond in the Environmental area.
If anyone has spare plants for the environmental area/ pond area, please get in touch with Miss Penn in the school office. They will be gratefully received by the children!
Share this: