Year 4 Netballers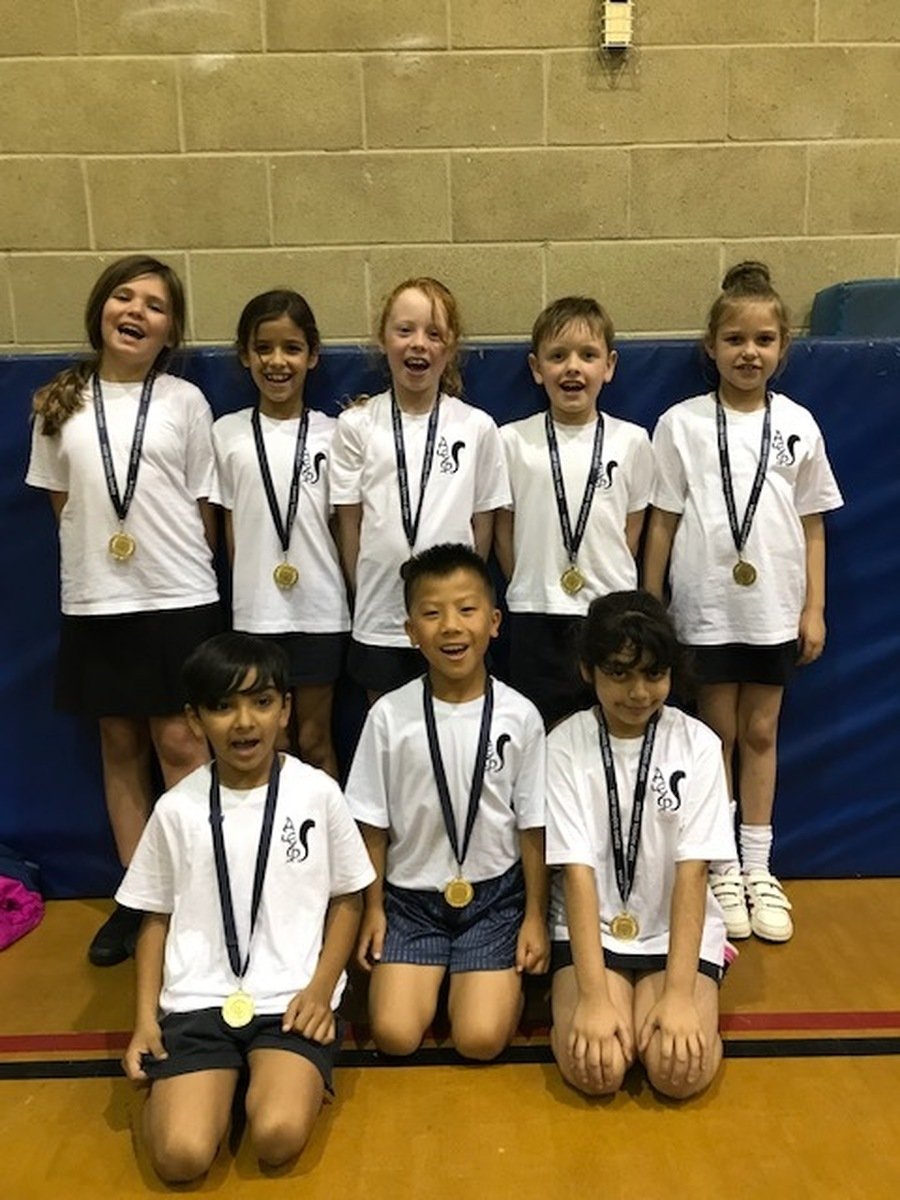 The Y4 netballers had a brilliant afternoon learning the various skills needed for netball.
They practised throwing, catching and shooting with WHS Games Makers.
All the children showed great sportsmanship and behaved impeccably, well done everybody.
Year 1 - It's Not A Stick!
Year 1 have been out and about in the environmental area looking for their own 'IT'S NOT A STICK!'.
Some great imagination and ideas came from the children! They're looking forward to reading and writing about this book.
Year 4 Art Work
Year 4 have been reading the 'The Dot' by Peter Reynolds.
They have found out about Vashti who thinks she can't draw. But her teacher is sure that she can. She knows that there's a creative spirit in everyone, and encourages Vashti to sign the angry dot she makes in frustration on a piece of paper. This act makes Vashti look at herself a little differently, and helps her discover that where there's a dot, there's a way.......
Have a look at their artwork on display in class.
Year 2's Most Magnificent Things
Year 2 are learning about explanation texts.
They have read the book 'The Most Magnificent Thing' by Ashley Spires and have designed and made their OWN 'most magnificent thing'.
The children will now write a text, explaining how their 'most magnificent thing' works!
Year 3 nature walk
Year 3 were using their observation skills as they walked around school looking at the changing environment around them.
They were particularly interested in all the vegetables growing in the veg patch and all the seeds they could see on the trees.
We will be looking closely at three trees over the year to see how they change.
Year 5 Investigate Materials
In Science, Year 5 have been busily exploring and recording all the different types of materials used around school. They have been thinking about why that material has been used and how to describe its properties.
They will also link this to the book,' The Stone Book Quartet' by local author Alan Garner, in which he describes the building of our school and the church built by the local stonemasons.
Reception get sporty with PFC
Today children in Reception received a football demonstration from Joe Holt from PFC.
Joe works regularly in school, coaching the older children in team sports and running the football afterschool clubs.
With Joe, the Reception children had a great introduction to football, learning how to dribble, drag the ball back and of course how to celebrate a goal.
PFC run a football club on a Friday after school that Reception children are welcome to attend. Further information can be found on flyers that will be sent home this week - please contact PFC directly for the after school club
Year 2 scientists
As part of the science curriculum, year 2 spent a wonderful afternoon in the environmental area.
The children were discovering animals in their habitats, including micro habitats.
It was important to observe the animals closely in order to gather and record data. This would then allow the children to identify the animals and answer questions when they were back in the classroom.
Year 3 Introduce Oogie
Year 3 have made a great start to the academic year and have been keen to learn about the 5Rs- Readiness, Reflective, Responsible, Resilience and Resourceful. In particular, R for Responsible.
The children considered ways in which they are responsible in and around school and their ideas form part of their ongoing 'Learning to Learn' display.
They have also started to write their own stories about how Oogie Owl learned, from the children at Alderley Edge Primary School, how to be more responsible.
Year 6 Tell The Story of Felix The Fox
Year 6 have made a terrific start to the new academic year by learning about the 5r's. These form the focus for this year - Readiness, Reflective, Responsible, Resilience and Resourceful. In particular, R for resourceful!
They wrote stories about how resourceful Felix the Fox is and some of these will be used in assembly or on the learn to learn display board.
Year 5 Have Been Learning About Reflectiveness
With a little help from Michael Jackson's Man in The Mirror to inspire them, the Year 5s have started the week researching, planning and finally creating their stories all about our class animal- Holly The Hedgehog.
Holly is one of the 5Rs the children will be focusing on throughout the year.
The hedgehog represents the skills associated with being reflective. This is demonstrated by them learning from their mistakes and looking for ways to improve their work.