Keeping Up The Hard Work
Keeping Up The Hard Work
27 April 2020 (by Head Admin (headteacher))
Back in the routine.....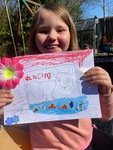 Its not been easy for all of us to get back in the routine after Easter but we are very proud of all our children who have been working hard again last week.
We have seen some fantastic photos of everything you have been getting up to and how creative you all are.
Keep your photos coming to your class teacher or squirrel@aecps.org
Children - you are our super heroes!
Share this: