Roman Invasion
Roman Invasion
9 November 2020 (by Head Admin (headteacher))
Year 4 have been invaded!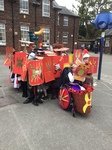 The Romans have landed in Year 4.
Year 4 spend the whole day dressed as Romans and learning about this important period in British history.
The children learnt about roman numerals and also wrote an instructional leaflet on what it takes to be a successful Roman soldier which they then used outside as they got into their tortoise formation, ready for battle!
After researching Roman architecture and looking at the Roman religious beliefs, we created beautiful busts of the Roman king of all Gods; Jupiter.
In the afternoon, they acted as real life archaeologists by using tools to carefully uncover Roman artefacts. If you want to know more about the Romans just ask year 4!
Share this: