We're Delighted To Be Back
We're Delighted To Be Back
8 March 2021 (by Head Admin (headteacher))
All AECPS children back on site and raring to go!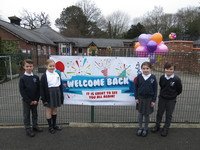 There was a buzz of excitement this morning as all the children returned to school, pleased to be back.
The staff were delighted to see them all, collect the fantastic work they have been doing and hear about life at home.
Mrs Walsh started the day with a whole school assembly and the children quickly settled into normal routines
Thank you to the PTA for organising the welcome banners and balloons to celebrate our return
Share this: