Orienteering in the sunshine
Orienteering in the sunshine
1 April 2021 (by Head Admin (headteacher))
Year 3 improve their map reading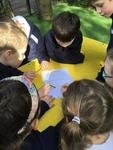 Year 3 had great fun this morning map reading and following orienteering clues set up around the playground, linking to our 'Travel to Tokyo' challenge for P.E.
With clues found, they then continued their learning back in class , locating the countries they had found .
Some were even able to locate the capital cities and work out the distance travelled between countries using the scale on the Atlas.
Amazing work Year 3 you all worked well in teams.
Share this: