It's Maths Week
It's Maths Week
5 May 2021 (by Head Admin (headteacher))
We do maths every day but this week is Maths week in school.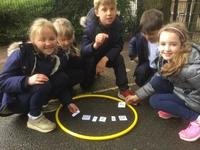 The children are learning how their maths skills are important and used in everyday life.
To kick off Maths Week year 2 had a maths lesson with a difference! The children, in teams, had to collect one piece of a number sentence. Once their team had collected all the pieces, they had to put their cards in order, so their number sentence made sense. The first group to complete their number statement is the winner!
Year 3 got Maths's week off to a great start. They were learning all about angles and went out into the playground to discover angles and learn how to make different size angles. They then went back to class to problem solve!
Year 6 got Maths week off to a productive start by comparing the colours of flags and recording their information in pie charts. They exercised their skills of tallying, circle drawing and using protractors, not to mention some arithmetic too!!
Share this: