Active in Maths
Active in Maths
7 May 2021 (by Head Admin (headteacher))
Reception get active in Maths!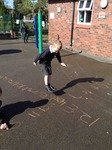 The Reception children had great fun as they demonstrated their maths skills.
They drew their own number lines, with chalk, on the playground and then jumped 'up and down' it as they solved addition and subtraction problems together.
They also worked really hard to create their own addition and subtraction numbers sentences.
Well done Reception- great maths this week!
Share this: