COVID 19 risk assessment update
COVID 19 risk assessment update
17 May 2021 (by Head Admin (headteacher))
Slight changes to the school risk assessment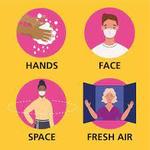 As we know COVID-19 is still in our communities and we must remain vigilant as we want to prevent class and school closures. Unfortunately, schools in our local vicinity have had to close bubbles last week so it is important we still take precautions.
However, last week the DFE issued its latest guidance to schools. The majority of recommendations for Health and Safety remain in place but we have made some minor adjustments to our school risk assessment in light of their advice. These include:
Face coverings are not essential to be worn outside. Face coverings must be worn if entering the building or talking in close proximity.
Visitors may include regular volunteers. Volunteers must only work in one class.
Residential visits can take place (but Wales is not open to English school groups yet so the year 6 residential remains uncertain!)
Inter-school sports competitions (outside) can take place
A full copy of the school risk assessment is available on the school website.
Share this: