Year 6 Investigate
Year 6 Investigate
22 September 2021 (by Head Admin (headteacher))
Year 6 are enjoying their science lessons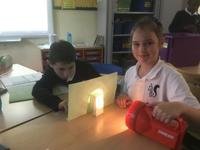 Year 6 have been investigating how to change and manipulate a shadow.
Today the children conducted an experiment into the relationship between the size of the shadow being cast and the position of the light source and object casting the shadow.
The children concluded the closer the light source to the object the larger the shadow.
Share this: