Year 2 Recreate The Past
Year 2 Recreate The Past
28 September 2021 (by Head Admin (headteacher))
What games did your grandparents play?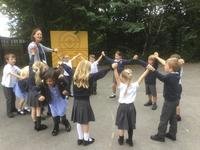 As part of their History topic the Year 2s are learning traditional songs and games played and sung by their grandparents and great grandparents, 'In and out of the Dusty Bluebells' and 'The Farmer's in his den.'
They are looking at how roles and jobs have changed over the years and are creating their own versions of the rhymes and games.
Share this: