River Joins Assembly
River Joins Assembly
6 October 2021 (by Head Admin (headteacher))
We have learnt all about Assistance Dog and how they help people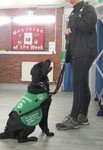 River joined our assemblies to teach us all about assistance dogs, what they do and how important they are when they help people.
We learnt that when River is working we should not approach her and let her focus on her job.
You may now see River working on school as she supports one of our families.
Please remember that only trained assistance dogs are allowed on site.
Share this: