Year 2 Learn Cricket
Year 2 Learn Cricket
5 December 2018 (by Head Admin (headteacher))
Who says cricket is a summer sport?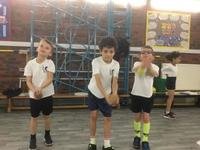 Our Year 2 children have been enjoying coaching sessions with cricket coach Andrew Jackson.
The children practiced throwing, catching and batting skills in small groups.
The children also practiced their aiming skills and can now bowl a ball and hit a ball with a cricket bat.
Share this: