A Special Visitor in School
A Special Visitor in School
21 December 2018 (by Head Admin (headteacher))
Father Christmas visits the children in class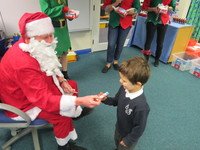 Santa took time out of his busy schedule to visit the children today.
Ably assisted by his 3 elves, he visited each class and shared with the children a small, sweet treat to take home.
Many thanks to the PTA for arranging the visit.
AECPS would like to take this opportunity to say Merry Christmas and a Happy New Year to all our friends and families.
Have a fantastic holiday and we look forward to seeing you again in 2019!
Share this: