Support us develop mental health and well being in school
Support us develop mental health and well being in school
3 September 2019 (by Head Admin (headteacher))
Collect the green tokens in Waitrose Wilmslow and Alderley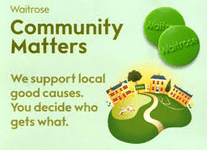 When you next shop in Waitrose in Wilmslow or Alderley, remember your green tokens and put them in our collection box.
We are working on developing our resources and support for all the children in school to promote well being and mental health. We hope to raise enough funds to develop a well being hub.
Tell your friends and family too!
Share this: