Meet our new Reception children
Meet our new Reception children
6 September 2019 (by Head Admin (headteacher))
Look how grown up we look!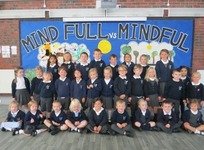 The Reception children have had a flying start to school! This week the children have spent the mornings getting used to their new classroom and teachers through exciting activities linked to the whole school story "Mixed" by Arree Chung.
Miss Platt said, "The children have settled exceptionally well, making new friends and getting used to their new surroundings. We have had a wonderful first week and look forward to a busy and fun year ahead."
Share this: