Great start to the year
Great start to the year
10 September 2019 (by Head Admin (headteacher))
Inspired by the book 'Mixed' by Arree Chung the children have launched into the new year!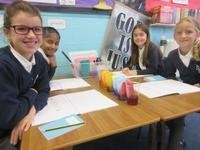 The whole school has taken the book 'Mixed' as a course of inspiration to start the new year. The book focuses on diversity and how we are all different and come from a wide variety of cultures and backgrounds.
Through the idea of mixing colours, the children have also used the book as a platform for launching our year of science and carried out some fantastic investigations into colours.
Year 5s investigated absorption and how they could create different colours through walking water whilst Year 6 have been investigating if different colours have different weights.
Share this: