Year 3 Visit The Carrs
Year 3 Visit The Carrs
7 October 2019 (by Head Admin (headteacher))
Year 3's field mapping of the River Bollin.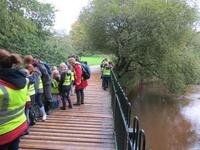 Dressed for all weather eventualities, year 3 took their wellies along the River Bollin!
They had great fun looking at the river features and even tested the river flow playing pooh sticks! Luckily the rain held off.
During the afternoon they practised their Geography skills mapping the river features and tracing the River Bollin back to its source!
Share this: