Year 1 Bookclub
Year 1 Bookclub
9 October 2019 (by Head Admin (headteacher))
Our little bookworms had a lovely time sharing their favourite books with each other.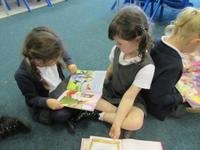 The children talked about what made their books exciting and enjoyable to read- from 'Aaarrgghh Spider' , who unwittingly enchants the 'chosen family' to 'Tansy the fairy' who saves the day by rescuing the fairies crowns and jewels.
We look forward to sharing our love of books and reading with each other.
Share this: