Lets All Compost!
Lets All Compost!
15 November 2019 (by Head Admin (headteacher))
Lucinda Hodges treated us to an Assembly about compost!!!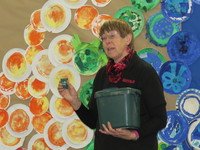 As you know, we've already been joint winners of the Junior Recycling officers of the year and this is an extra area of recycling we can all get involved in at home and school. Lucinda showed us what things can turn into compost, which will in turn help our plants and our environment. Things like hamster bedding, fruit skins and even cardboard can turn into compost over time. In school we have 2 compost bins in the gardening area and every spring we empty them into the garden patch to help new plants grow!
From January 2020, every household will be given a small compost caddy to keep in the kitchen to recycle cooked foods, which will be collected with your rubbish. Did you know, these can be turned into compost in 8 weeks!
Share this: