Year 5 and 6 Meet An Astronaut
Year 5 and 6 Meet An Astronaut
20 November 2019 (by Head Admin (headteacher))
The Year 5 & 6 recently attended a morning workshop  at Alderley Edge School for GIrls to meet  Helen  Sharman, CMG, OBE, HonFRSC  - a chemist who became the first British cosmonaut and the first woman to visit the Mir space station in May 1991.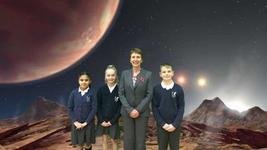 The children were enthralled with Helen Sharman's experiences, which may never have happened if she had not been listening to the radio on her way to work. She heard an advert for an astronaut and even though she didn't believe she stood a chance, applied for the position. The rest as they say is history.
We were all inspired, especially as she explained NASA has begun its exploration of Mars and that sitting in one of our classrooms may very well be the astronaut of the future who lands there.
Share this: