Thank You Waitrose
Thank You Waitrose
25 November 2019 (by Head Admin (headteacher))
Waitrose Community Matters Tokens raise £647 for school well being hub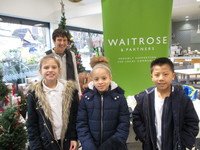 The Recycling Officers visited Waitrose as they have have been learning all about how supermarkets such as Waitrose are helping the environment by recycling.
The children learnt about how much Waitrose now recycle and use packaging that is made from recycling, like egg boxes are made from rye grass and cutlery from Bamboo. They put the cardboard boxes into the machine that crushes them and they go to make new cardboard boxes.
Whilst there, the children were presented with a cheque from both Alderley Edge and Wilmslow Waitrose shops from their Community Matters green coin collection. Together, the stores raised £674 for school.
The children were treated with a Waitrose lunch bag and goodies.
Share this: