Year 3 Egyptologists
Year 3 Egyptologists
26 November 2019 (by Head Admin (headteacher))
Year 3 had an amazing trip to Macclesfield Silk  Museum to find out more about the Ancient Egyptians.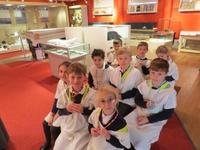 Year 3 spent a very informative day dressed and ready to travel down the Nile and look at all the interesting artefacts including a real sarcophagus case!
The children became museum curators and displayed and talked about their artefacts and even had a go at making a Jackal mask used by priests!!
They were really well behaved and asked some interesting and informative questions. Well done Year 3.