KS1 share the Christmas story
KS1 share the Christmas story
18 December 2019 (by Head Admin (headteacher))
All the children in KS1 took part in their performance of the Christmas story.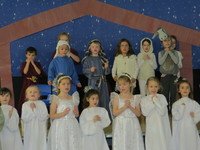 The year 1s took the lead - playing the main roles and performing brilliantly but were ably supported by the rest of KS1
The children had worked hard to memorise their lines and sing beautifully.
A huge well done to the Reception children and year 2s who supported and sang their hearts out!
What a magical moment - we were very proud of all the children.
Share this: