Our Christmas topic is 'What is a Gift?'
Our Christmas topic is 'What is a Gift?'
18 December 2019 (by Head Admin (headteacher))
Children are making special gifts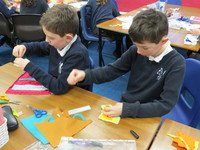 All the children have been learning about the importance of giving and taking time to make their own gifts to 'make a difference' as these are extra special for the recipient.
They have been using their DT skills in textiles to design and make gifts for family and friends. They have been putting their sewing skills to the test and making presents of book marks, puppets, bags and cushions.
With only one or two 'pricked' fingers! The children have surpassed all expectations.
Share this: