Mad Scientists
Mad Scientists
10 February 2020 (by Head Admin (headteacher))
Year 2 Mad afternoon with Mad Scientists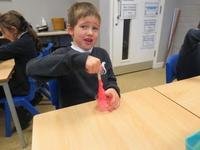 As part of science week, Year 2 got to mix things up and observe the fascinating world of chemical reactions!

Bubbling beakers and colorful chemicals resulting in the children making their own 'slime to go!'

The children were warned to keep their slime away from young children, carpets, furniture and clothes!
Share this: