A Busy Day 2 of Science Week
A Busy Day 2 of Science Week
12 February 2020 (by Head Admin (headteacher))
So many things to investigate and inspire.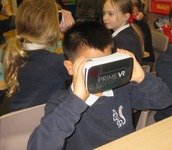 What a fantastic day 2 of science week.
All the classes have been busy developing their scientific knowledge and understanding.
Today years 3 to 6 used virtual reality to explore the world of the oceans, the digestive system, the lungs and space.
Year 5 linked both their Science and Safety Internet day by going online live with Alex Worrall, an engineer from Facebook. They watched a presentation and then asked him questions about how science and engineering were linked.
More experimenting on day 3!
Share this: