Cave Art Comes Alive!
Cave Art Comes Alive!
29 February 2020 (by Head Admin (headteacher))
Year 3 Create Cave Art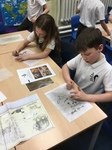 Year 3 have been exploring the style of cave paintings. Using these as inspiration, they experimented using pastels and charcoal. They really enjoyed these art lessons- we hope you enjoy looking at their creations! Click on the link below.
Share this: