School pond up and ready for dipping!
School pond up and ready for dipping!
4 March 2020 (by Head Admin (headteacher))
Our school pond is up and running thanks to Ms Penn, an army of volunteers and grants!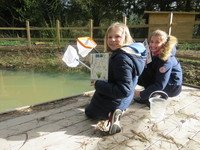 We are delighted to announce that the refurbishment of the dried up clay pond situated in our woodland area has been completed. We now have a fully lined pond with a dipping platform and safety fencing.
This project was started in 2018 when we approached various charities for funds. Over the last two years we have been granted £1000 from Manchester Airport Trust, £1000 from Tesco Bags for Life following a blue coin campaign in the Alderley Edge Store and Handforth Dean store, £400 from Waitrose following the in-store green coin collection, £1,000 from a local charity with close links to the school, Beech Hall School Trust and finally £568 from the Ernest Cook Trust which was to be used specifically for educational materials.
In addition to this Alderley Edge Pre-School also donated £2,400 for the safety fencing around the pond as their kind contribution.