Netball Team have a busy day!
Netball Team have a busy day!
5 March 2020 (by Head Admin (headteacher))
2 tournaments in one day!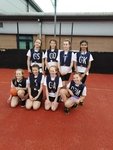 The year 6 netball team had a very busy afternoon, playing in both the MSSP High 5 Netball final at Wilmslow High School and then the local league matches at Wilmslow Academy. Both events involved playing 4 schools. The girls came a very creditable 3rd in the MSSP tournament. They then went on to to win 2 and lose 2 matches in the league games.
Well done to all the girls who took part, you showed great teamwork, determination and fair play.
Share this: