Shiver Me Timbers
Shiver Me Timbers
6 March 2020 (by Head Admin (headteacher))
Invaded by pirates on World Book Day!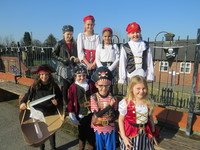 This year we were invaded by pirates on World Book Day! There were some very fierce and frightening pirates but luckily noone was made to walk the plank by Captain Walsh!
All the children (and teachers!) were asked to dress as pirates to celebrate the wonderful world of books. Miss Platt led an assembly on how to talk like a pirate then each class undertook pirate related activities over the day in their lessons.
There was a lot of fun had by everyone and once again World Book Day was a great success.
Share this: