County Silver Medalists!
County Silver Medalists!
12 March 2020 (by Head Admin (headteacher))
Hockey team win silver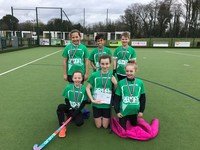 What a tournament! We couldn't have asked any more of our Year 6 team.
The children played some amazing hockey, so amazing that other schools were commenting on our skills.
The team all but one of seven games, the opposing team only drawing by a controversial last minute equalizer ...... it was definitely outside the D!
In the final we held our own against Kings, Chester and held our nerve, only losing in the final minutes by one unfortunate goal.
Team - you can hold your heads up with pride, we are very proud of you.
Share this: