Rainbow of Hope
Rainbow of Hope
30 March 2020 (by Head Admin (headteacher))
Have you seen our Rainbow of Hope in Waitrose?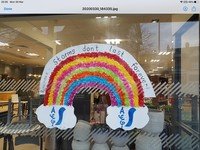 The children of key workers have been busy today creating a Rainbow of Hope to display in Waitrose.
The staff of Waitrose want to create a community display of rainbows in their store and the children created one together.
If you want to make your own picture of a rainbow I am sure that the store would appreciate your contributions.
However, you should only take one into the store if you are intending to shop there as a necessity - do not make a special journey! Remember to keep your social distances!
Share this: