What a poet!
What a poet!
23 April 2020 (by Head Admin (headteacher))
Have you had your poems read on air?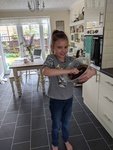 Writing poetry is a difficult skill and Ebony has the talent.
So much so that her work is being read and shared by Paul Jenkins on his page at 4pm todayand then his radio station tonight at 7-8pm.
Paul is a former teacher turned poet, presenter and performer. (He likes a good bit of alliteration)
He has written six books of poetry and one novel, touring the country sharing his work with teachers and pupils all over the UK as well as performing at community and business events. He has worked with agencies such as the National Literacy Trust, The Shakespeare Schools Festival and BBC Learning,
Well done Ebony - what an achievement!