Safer Internet Day
The children spent a day recently finding out how to stay safe whilst using the internet. The document below helps parents to help their children stay safe. Below this document are some examples of work from the classes.
Wilmslow Schools Swimming Competition
Overall, our school came third from the nine schools that competed in the Swimming Gala recently. But, individual successes were great with Olivia gaining Gold in backstroke, Ben gaining Gold in breaststroke and the Girls team gaining Gold in the Relay. Well done to the whole team!!
Indoor Athletics Area Finals
The athletes from Year 6 and Year 5 competed in the area finals in Macclesfield after winning through from the local event in Wilmslow. As expected the level of competition was very high and our school was not placed in the top three. It was a brilliant event and ended a great sporting week. The team were enthusiastic and supportive of each other right to the end.
Chinese New Year in Year 5
Year 5 celebrated The Year of The Monkey! Most of us are born in the year of the dog or rooster, have a look to see what our personalities are like. We tried using chopsticks and even some Tai chi!
Chinese New Year in Year 1
We were lucky enough to have Aston's mum come into our class and tell us all about Chinese New Year. The children learnt all about the Zodiac signs, dragon and lion dances and traditions that families celebrate together.
Year 4 Drama
Year 4 have been acting a scene from Persephone the Greek legend. They have written their own scenes and performed them in small groups.
Year 5
Year 5 have been experimenting again! Did you know that a pulley makes things easier to lift? Ask a Year 5 person for more details.
Hockey
A mixed team of Year 5 and Year 6 took part in a recent mini hockey tournament against local primary schools. They played well winning one game, drawing one but unfortunately losing two. A great team spirit saw them through though.
Chocolate Rocks and Science
Year 3 were busy today making chocolate rocks to help explain how different types of rocks are made. We had fun layering different types of chocolate and then applying pressure and heat to observe how they changed!
Year 5 went to space
Year 5 joined in the live cosmic classroom this afternoon, with Tim Peake on board the ISS. He shared exercises with us here on earth from touching his toes and spinning. He even showed us how to drink in space!
Year 5
Year 5 are taking part in Bible Explorer, a 6 week series of activities based around exploring the Old Testament, presented by Wyn Reynolds. This week we learnt about the story of David and Goliath and even got to meet the giant himself!
News from America
The photos below will scroll through so you can see what Max has been up to during his treatment in America. The bullet points below explain what you can see in the images.
We were last off the plane so they let us in the cockpit. Max now wants to be a pilot when he grows up!
Tilda helping to take Max's first assessment photographs.
Max's scoliosis traction chair being built. He sits in this for 30mins at a time while it vibrates and loosens him up. It okay though - they built in an iPad holder!
Measuring the angle that Max can raise his leg to without feeling nerve tension.
We are the red pin.
Having his favourite therapy; the spirilator or wave bed. This moves up and down his back like a massage.
Max testing his nerve stretching table. He's not so keen on this one - it hurts :(
Pioneering Year 2
The Year 2s have been experiencing life as a pioneer, making flapjacks and churning butter.
There were lots of sore arms after shaking their jars, to turn the cream into tasty butter. No more buying butter from the shops for Year 2!
Scoot Fit
Year 6 have been learning about their fitness and getting fitter working with Scoot Fit.
Year 5 get in a spin
.Year 5 investigated the effect of air resistance on their spinners. They also tested whether size of wings and types of paper made a difference to the speed at which the spinners reached the ground.
The Reception class venture in to the Forest
The Reception children have been spending some time exploring in the environmental area over the recent weeks. They have been using their senses to look, listen and feel their way around the forest area. They collected different interesting forest items to bring back to the classroom to do observational drawings.
Netball Team work hard and continue to improve
The start of the netball season did not start well but the team have worked hard and in a tournament last week won 4 matches and drew 0 - 0 in the 5th game ending up as runners up overall. They won 3 - 1 (Lostock Hall), 3 - 0 (Lower Park), 1 - 0 (St Benedict's) , 1 - 0 (Wilmslow Grange) and 0 - 0 (Ashdene). The team are now through to the Macclesfield Area finals.
Science in Year 3
Year 3 have been very busy this week finding out about rocks. They have sorted them for properties on Carroll diagrams and used experiments on the netbooks to discover more about rocks.
School Achieves Gold Again!!
We have again achieved Gold Status through the Sainsbury's School Sports Award system. The School Games Mark is a Government led awards scheme launched in 2012 to reward schools for their commitment to the development of competition across their school and into the community. Schools in England are able to assess themselves across bronze, silver and gold levels of the Mark. External moderation ensures that the commitment to sports and involvement in competition in sport is excellent. Gold is the highest standard! The Sports Ambassadors (who promote and develop sport in school) are pictured below with the shield, certificate and banner.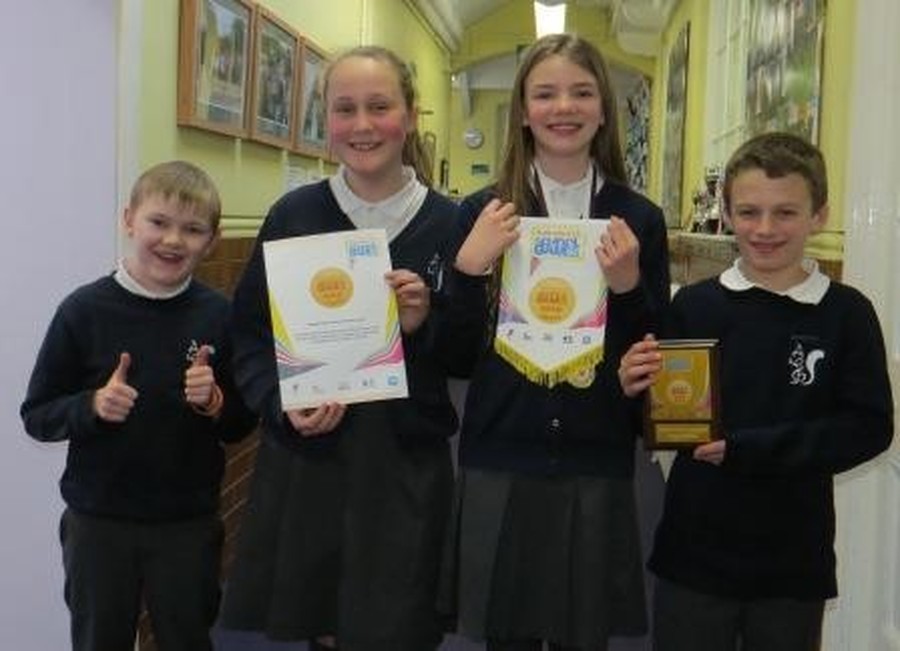 Wilmslow Schools Sports Hall Athletics Winners - two years on the run!!
A mix of Year 5 and 6 children competed against 7 other local schools to be crowned Sports Hall Athletics winners for the second year in succession! The team were an absolutely brilliant team. Mrs Clee (PE Teacher) said that the children were so encouraging and supportive of each other in every event which seemed to spur them on even more.
Max and Tilda get support from their class mates
As you are probably aware the Bailey family to raise £35,000 to enable them to take Max to America for life-changing therapy.
Max was born with a tiny bit of one of his chromosomes missing which has huge implications for him and most recently one of the conditions, scoliosis (curved spine), has progressed so quickly that he now requires immediate surgery.
I would like to offer my sincere thanks to the parents who took over the running of the Village Café from 8.00 am and 10.00 am as well as those who went for breakfast. The Village Cafe provided everything for free and this helped boost the fund by approximately £3,000.
The children have all been given a Team Max badge and wrist band today which come in a variety of colours. The children can collect all the colours and all they need to do is buy more bands by visiting the Aldeli American Diner, Mr Simms Sweet Shop or The Yard where they are on sale
The Bailey family are due to fly out to America on Sunday and we wish them, and especially Max, the very best for the journey and the treatment. We are looking forward to seeing Max back in school on his return.
Hopefully, Max's mum will be able to send photos from America during their visit and these will be posted on the school website.
George Osborne (MP) and Her Excellency Sylvie Bermann
Today a group of eight Year 6 children went to Wilmslow High School to meet George Osborne (MP) and Her Excellency Sylvie Bermann (French Ambassador to the UK)
We were invited to bring a small group of children to Wilmslow High School because of our strong links with the school but especially our strong links in language teaching.
This was an incredible opportunity for the children. During the visit the children were able to work alongside staff and students from WHS as well as have an opportunity to meet and talk to George Osborne and Sylvie Bermann.
Year 5 Scientists at work
Year 5 have been investigating the forces of friction and it's relevance to footwear and sports. Great fun was had testing, fairly, which shoes held on the longest and looking at various grip patterns. Some children extended their testing to include Newton meters to test if we doubled the force on a car, would it go double the distance?