Monster Fun at The Squirrel Club
A fabulous MONSTER day at was had at TSC holiday club. The children created junk monsters, cake monsters and even become monsters.... they even managed to scare Mrs Reynolds, Joanne and Grace!! A great day was enjoyed by all.
Reception Class Award
Reception class have enjoyed a wonderful afternoon at their Teddy Bears Picnic! The children chose this as a class award after working so hard this half term. All of the children brought their favourite teddy, joined in with teddy themed crafts, played party games and of course enjoyed a picnic of cake and pom bears out in the sunshine!
More medals for the netballers
The yr 6 netball team took part in the MSSP high 5 netball tournament at WHS.
They won their section convincingly, beating the 4 other teams in their section.
They then played Gawsworth in a very exciting and nerve wracking semi final. Despite playing brilliantly they just lost 2-1 in the final few seconds.
They then played Nether Alderley in the 3rd/4th play off, winning that game 2-0 and coming 3rd overall in the competition.
A fantastic afternoon of netball. The team showed great positional play and superb teamwork. Well done!
Year 6 Mad Science
What a Science Week Year 6 have had!
It began with foresensic science. Year 6 learned how a crime scene would be investigated using fingerprints and teeth prints!
Then they had a classification lesson on invertebrates using internet based resources. Some great learning partner work went on here!
Finally Year 6 investigated the science of chemistry using acids, alkalis and neutrals – great fun and a great week!
Cheshire Kurling Champions
The Indoor Kurling team played in the Cheshire Finals in Crewe today.
They won all their matches beating teams 8-0, 5-1, 3-2, 5-0.
The teams showed great determination and skills to win. They were a credit to AECPS.
Thank you to Mrs Reynolds and Mrs Scott for excellent coaching.
Amazing Archaeologists in Year 2
Year 2 have been combining their history and science skills to investigate what they can learn from the past.
The children were presented with historic poo!! They had to use their knowledge of what the different ancient civilizations ate to inform them if the remains were Roman, Egyptian or from somewhere else.
The children had great fun and demonstrated fantastic observation and reasoning skills to be able to interpret the past.
Hockey Team win gold
Alderley Edge Primary sent 2 teams to the Wilmslow District hockey tournament at Alderley Edge Hockey Club.
The year 5 team played brilliantly and narrowly missed out on a place in the finals.
The year 6 team managed to qualify for the finals based on goal difference but the result was fully justified. Their great skills and team work shone through and they triumphed, winning gold!
The team will now complete in the regional finals in March.
Well done to all our hockey players.
Great Geologists in Year 3
Wow what a busy two days year 3 have had using science.
From our mad scientist assembly on Monday, to looking at different types of rocks and the question, do all rocks sink? We have been building structures that will withstand rock movements like earthquakes; not as easy as it seems!!
We have made plastic milk! Is it possible that this was discovered 7000 years ago?
Today we have made our own chocolate rocks. How are sedimentary , metamorphic and igneous rocks made ? Ask year3, we know!
To Infinity and beyond!
As part of this week's Science week and as part of Year 5's topic on Space, Turbo Tom, our mad scientist took Year 5 into the outer space.
They created a physical solar system and then had to use bubbles to create their own galaxies. Turbo Tom gave them a range of challenges from creating the largest planet, a chain of planets and a cluster of the smallest planets.
Year 5, are now well prepared for their visit on Thursday to Jodrell Bank
Year 2 Chemists
As part of science week, Year 2 got to mix things up and observe the fascinating world of chemical reactions!
Bubbling beakers and colorful chemicals resulting in the children making their own 'slime to go!'
The children were warned to keep their slime away from young children, carpets, furniture and clothes!
Young Entomologists in Year 1
Year one have been learning all about the life cycle of butterflies, they made caterpillars, collected pollen and decorated their butterflies!
Exciting assembly to launch science week
'Mad Science' encourages scientific literacy in children in an age when science is as vital as reading, writing and maths!
This morning, the whole school was introduced to the wonder of science with a spectacular science-themed assembly.
The Mad Scientist put on a show which amazed and entertained the children at AECPS from Early Years to Year 6!
The children watched the highly interactive assembly which featured science demonstrations such as chemical reactions, bubbling potions and moving electricity!
新年快乐 (Kung Hei Fat Choy)
Year 6 celebrated Chinese New Year by using chopsticks!
This year is the year of the pig and quite a lot of Year 6 were born during this year! This means they are well behaved, considerate and optimistic!
Gold for Indoor curling team!
The year 6 indoor curling team have won gold at the Macclesfield and Wilmslow curling championship this afternoon.
The team played brilliantly, working together and encouraging one another to do their best.
They triumphed and are now in the area finals in Crewe.
Well done team!
Year 2 recreate the fire of London
As part of the history curriculum in KS1 the children study 'events beyond living memory that are significant nationally or globally.'
Year 2 have been learning all about the Great Fire of London. The children have been working on building Tudor houses, in the style of the houses that lined the streets of London in the 1600s.
When finished the houses looked very impressive, especially all lined up together.
In order to see how quickly the fire spread through London, the children agreed to burn their houses. The Year 2 children lined their houses up in the field. With the help of Jackie Burt and the children standing safely behind cones the bakery was set on fire! The children watched as the fire spread quickly and even changed direction as the wind changed direction. Just like the real fire in 1666!
Year 6 Learn there is more to a library than just books!
Year 6 visited Alderley Edge local library today for a session on how to use the library effectively. Activities included the classification of books, both fiction and non fiction and also the other services the library offers.
Did you know you can order a book from the other libraries? Did you know you can use the internet free for 1 hour and print up to 5 pages? Did you also know you can use dvds?
Our local library has lots of resources, which Year 6 will definitely use from now on!
Who inspires you?
Year 4 have read a thinking story all about being inspirational. They discussed what characteristics someone would have who was an inspiration to others.
For homework, Year 4 then researched somebody who inspires them.
They all presented their work to the rest of their friends.
Fun in the snow (and learning too!)
We love it when the snow comes!
All the children had great fun at playtime enjoying the snow and making fantastic snow models.
As well as enjoying themselves, everyone was developing lots of skills including team work and collaboration. As a result there are some fantastic creations on the field!
Spring Term Creative Club
The Year 2 Creative Club had great fun this week modelling their very own 'Morphs' out of modelling clay.
The children watched a tutorial to gain some tips on manipulating the clay to make the initial body shape, and pinching, squeezing and shaping the clay to give pore detail.
There was a range of colourful cheeky little chaps by the end of the session!
Year 5 learn how to play Tchoukball
Some of year 5 were invited to attend the Wilmslow High School Tchoukball festival.
This fast and furious game involves applying throwing and catching skills and scoring by hitting a small angled trampette style goal.
The children showed fantastic tactical awareness and great team spirit. Mrs Metcalfe was very proud of the team.
Year 2 visit Alderley Edge library
Year 2 had a wonderful time visiting Alderley Edge Library.
The children learnt how to find books using the Dewey System as well as learning how to loan books using the library's computer system.
Mrs Sym was extremely proud of how well the children behaved when walking through the village and the wonderful questions they asked and answered during the visit.
an amazing team
Having won the local tournament, the year 5 and 6 team went to Crewe Alexander to play against the best in Cheshire.
After a slow start, the team turned it round to narrowly miss out by losing on penalties!
The team came 4th overall out of 20 teams. A fabulous result!
Reception Explore the Forest
This morning, the Reception children wrapped themselves up and went to explore the forest- just like Peter did, in the story, Peter and the Wolf!
Thankfully, we didn't meet a wolf but instead had fun collecting items to take back to share in the classroom.
We found, pine cones, holly branches, bark, catkins, fern, fir branches and more. All children were extremely respectful of the environment.
In the afternoon, children worked carefully and produced some lovely observational drawings.
Year 2 study Anthony Browne
In literacy year 2 used Anthony Browne books as a hook to learn about the following:-
Express views about a range of books

Write a blurb

Discuss an illustration

Use conjunctives and noun phrases

Plan events for a story
Here you can see pictures of the children sharing and enjoying the different Anthony Browne books at the start of the lesson.
Year 4 Perform Pompeii Poetry
Year 4 have been reading the book 'Escape From Pompeii' and have been preparing to write a descriptive recount.
In order to improve their writing, they have been preparing poems about the tremors that occurred before Mount Vesuvius erupted and performed them for the class.
KS2 STEMKids Club
The first STEMKids club was a great success. STEM (Science, Technology, Engineering and Maths) teaches the children to apply their skills in a new, exciting and interesting ways.
This weeks theme was balloon powered vehicles.
The children had a fantastic time and loved the sessions.
They really impressed Mandi (their teacher) with their skills and behaviour. Next time they are investigating LEDs.
Victorious athletics team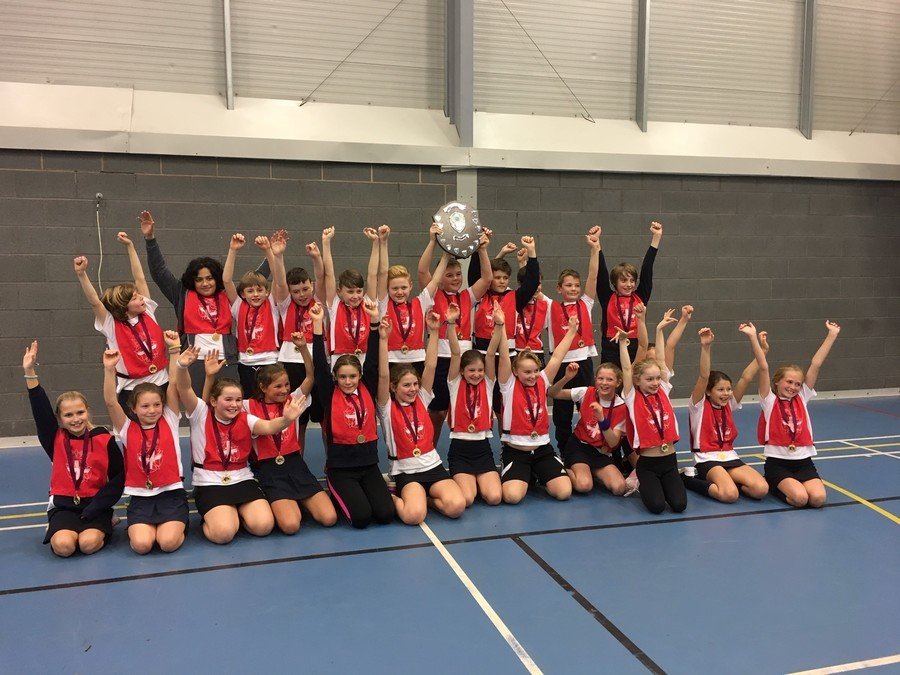 AECPS Y5 and Y6 team have won the Sports Hall Athletics competition, beating Ashdene by just 2 points!!
A very exciting afternoon, the children all performed brilliantly and supported each other, showing great determination and team spirit.
Year 4 Study Van Gogh
Year 4 have been working in the style of Van Gogh.
They have been experimenting with shades and tints; developing our observational skills; and using lines to create depth, texture and movement.